Mr. O. Arivazhagan, B.E (Honors), PMP, PMI-SP, PMI-RMP, MBB, CFM (HFI,USA) CEO, IIPM, was invited as a Panelist to speak on the topic of "Does Project Management drive the competitive advantage?" at PMI-CII's Conference On Proje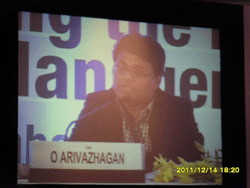 ect Management: "Harnessing The Power Of Project Management", held at Hotel Leela Palace, Bangalore on 14 & 15th December 2011.
The Conference focused on the theme "Harnessing the Power of Project Management" and brainstormed to develop a comprehensive approach in going beyond the limits of just producing efficient goods and services.
Nearly 300 delegates attended the conference from various industries like automotive, manufacturing, construction and IT.

The conference was well attended & well received by all.
Video footage of the Conference:
Panel Discussion Video - Part 1 | Part 2
General Conference Video - Part 1 | Part 2