Online PMP® Six Sigma New PMPs from IIPM PMI-RMP® PMI-SP® Pictures Gallery

PMP® DVDs MS Project® ITIL Online SSGB
Feedback of Participants

Page1 | Page2 | Page3 | Page 4 | Page 5 | Page6 | Page7 | Page 8 | Page 9 | Page 10 | Page 11 |
U R in
Page12 | Page 13 | Page 14 | Page 15 | Page 16| Page 17 | Page 18 | Page 19 | Page 20


Scheduling and timings were good with proper coverage of the 9 Knowledge Areas. Well organized from the beginning to end. Level of understanding is good & I welcome the Post Training Support, Library and Other Facilities available.
M. D. Srinivasan, Sr. Technical Architect, Hexaware Technologies.
Good training sessions. More and more sessions can be covered for other managers within the organization. The faculty inputs and the level of interaction were excellent.
S. Karthick, Project Manager, Hexaware Technologies.
Thank you. It was a great experience and very well presented. Excellent course coverage, presentation skills, faculty inputs, level of interaction & understanding.
Swarup N Selvaraman, President, Dhouht Greek Inc.

More Feedback...
Participants of the Training Programme
Case Study in progress...
Participants collecting certificates from the Faculty.
(Participants of Special Corporate Batch for HSBC, Bangkok, Thailand conducted at Chennai - August 2004)
(Participants receiving certificates from the Faculty)
Participants of PMP Course Chennai, July 2004
The course is beyond the expectations. I would recommend it to others.
Karunakar Eedula, Project Manager, Shakti Solutions, USA.
A capsule of Project Management in 4 days. An immense workshop. Excellent.
P. Premalatha, Associate Consultant, Hexaware Technologies.
Thanks a lot for a wonderful PMP Training Session. We can feel the difference in thought and action after we got back to work. We are able to understand, sequence and present things better as a result of the training. Manjunath K. V, Deputy General Manager, IBM Global Services.
Participants of PMP Course Chennai, May 2004
| | |
| --- | --- |
| (Participants of PMP Course in New Jersey, USA) | (Participants of PMP Course, SriLanka) |
(Participants of PMP Course, Chennai Mar 2004)
(Participants of PMP Course, Chennai Apr 2004)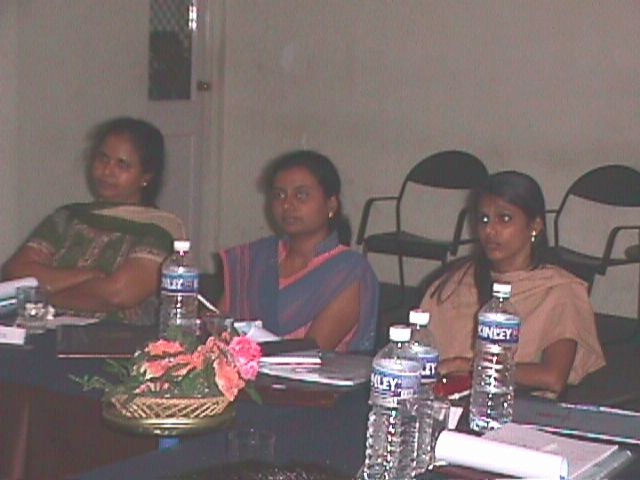 (Women Participants of PMP Course, Chennai May 2004)

Page1 | Page2 | Page3 | Page 4 | Page 5 | Page6 | Page7 | Page 8 | Page 9 | Page 10 | Page 11 |
U R in
Page12 | Page 13 | Page 14 | Page 15 | Page 16| Page 17 | Page 18 | Page 19 | Page 20

---
All trade marks / copyrights of other companies are respected and are properties of those companies.
PMI®, PMP®, CAPM®, PMBOK® Guide, PgMP® are trade marks / copyrights owned by PMI®, USA
For more details contact : marketing@iipmchennai.com
All Rights Reserved © International Institute Of Project Management- Chennai ®IIPM