Online PMP® Six Sigma New PMPs from IIPM PMI-RMP® PMI-SP® Pictures Gallery

PMP® DVDs MS Project® ITIL Online SSGB
Feedback of Participants

Page1 | Page2 | Page3 | Page 4 | Page 5 | Page6 | Page7 | Page 8 | Page 9 | Page 10 | Page 11 |
U R in
Page12 | Page 13 | Page 14 | Page 15 | Page 16| Page 17 | Page 18 | Page 19 | Page 20


1. Course structure and its contents: The course structure and contents were very good. It covered all the areas in the PMBOK® at a level that helped me to understand what areas of PM methodology I'm strong on and what areas I need to improve on before I take the exam.

2. How it was organized: The course was organized well for good understanding of the subject. Usefulness/meeting expectations The course was very useful to me and fully met my expectations. I learned a lot from the course, and I have greater confidence in approaching new PM jobs as well as preparing to take the exam.
3. Instructor's knowledge on the subject: I thought the instructor's knowledge on the subject was very excellent. Clearly an expert in the understanding and application of the PMBOK® concepts.

4. Presentation style, delivery quality: Presentation style and delivery was quite good. The use of examples, class discussion, and interaction was important to maintaining interest and conveying concepts.

5. Infrastructure: The infrastructure was satisfactory for course delivery. The course room was well set up for the use of projected slides and for the class size, which I thought was just about right for good discussion and interaction.

6. Overall rating: Overall I would rate the course about 8.5 on a 10 point scale. In descriptive terms "very good to excellent".
" Thanks for a very valuable course. I look forward both to applying
what I have learned on my next project assignment"

- Paul Redlin,ATT,USA Jan/Feb' 04
1. The course structure and content: Rating 9
2. How it was organized: Rating 9
3. Usefulness/meeting expectations: Rating 9
4. Instructor's knowledge on the subject: Rating 10
5. Presentation style, delivery quality: Rating 8
6. Infrastructure: Rating 9
7. Overall Rating 9.5

"Overall, I believe the class was excellent".
Tom Di Giovanni, ADP, USA Jan/Feb' 04

1. Course structure was good and I feel all topics were covered in
good length.
2. Organized well.
3. Course was very useful.
4. Instructor's knowledge: Excellent (The best part of course!!!).
5. Presentation style & quality: Excellent.
6. Overall rating: 8

"The course was excellent. I have rated it 8.
I highly appreciate the efforts being made by you to
educate people in project management skills"
Rajendra Joshi , UMusic, USA Jan/Feb' 04

"My pranams to our Instructor Ari who really groomed me to be a future PMP" .
Subramanya Bharadwaj, ROCHE, San Francisco, USA.
"It was really a wonderful class. Your extensive knowledge spanning across more than just PM area, really helped us to connect the missing links" .
Murali Sadhanala, MBA, Business Systems Analyst
Aspect Communications, San Francisco, USA
" It was a pleasure going through your course and I'll remember your tips as I move forward in my profession"
Aninda Bose, HCL Technologies America Inc, New Jersey, USA
" Course content was at first rate and your style of teaching was excellent"
Vijay Tikko, UNICEF, NewYork, USA.
"The training was really useful and it gave confidence to write PMP® exam apart from learning in depth in Project Management".
Mr.Jeya Subramaniam, Project Manager, HCL Technologies
"The PMP® training was excellent, profound thanks for the excellent coaching and motivational talks. It has taught many principles of PM"
Mr.V.Gunasekar, Project Manager, Think Soft Global
"Very effective & useful course, The lectures were oriented towards exam perspective which was very useful." Ms.M.Rama, DGM, Global Software Ltd.
"Very satisfied" R.Narasimha Babu, DGM, Global Software Ltd.,
What Others Say.....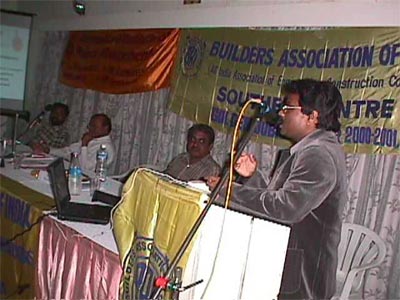 Participants of Builders Association of India, South conducted by IIPM CHENNAI
Builders' Association of India
"IIPM® was invited by the Builders' Association (Southern Region) and a technical paper was presented on FAST TRACK PM on CONSTRUCTION PROJECT MANAGEMENT at Hotel Palmgrove".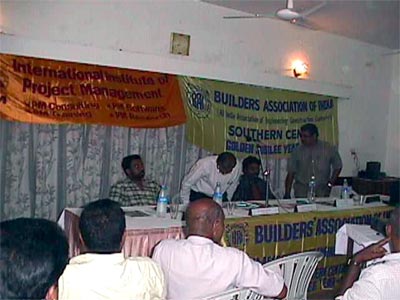 Institution Of Engineers India
"IIPM's participation in Institution of Engineers has been well appreciated by the members. A paper on Project Management Tools and Techniques was presented on behalf of IIPM® for the benefit of IEI Members."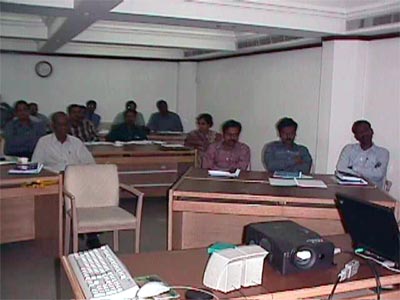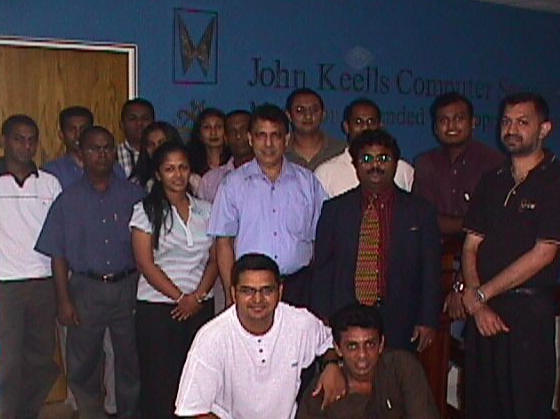 Corporate Training conducted by IIPM CHENNAI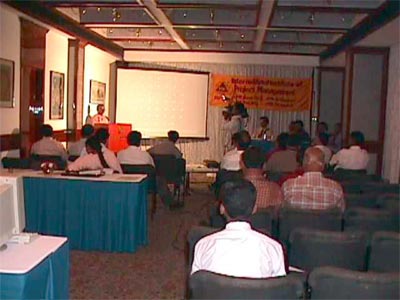 IIPM'S PM Conference 2001

Page1 | Page2 | Page3 | Page 4 | Page 5 | Page6 | Page7 | Page 8 | Page 9 | Page 10 | Page 11 |
U R in
Page12 | Page 13 | Page 14 | Page 15 | Page 16| Page 17 | Page 18 | Page 19 | Page 20

---
All trade marks / copyrights of other companies are respected and are properties of those companies.
PMI®, PMP®, CAPM®, PMBOK® Guide, PgMP® are trade marks / copyrights owned by PMI®, USA
For more details contact : marketing@iipmchennai.com
All Rights Reserved © International Institute Of Project Management- Chennai ®IIPM